15 mars 2013
Bonjour tout le monde,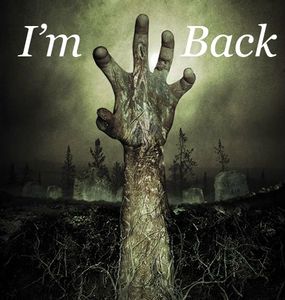 Après des mois de silence, me revoilà! Le blog en français reprend ici, En Mots et en couleurs. Oui, la photo est un peu horrible, mais en même temps, elle reflète bien les choses! Au plaisir de vous retrouver sur ce nouveau blog! Celui-ci ne sera plus remis à jour.
After months of silence, I'm back. My English blog has been on since January 2012, so you can visit it at Writing for a Better Life. Hope to see you all there!
Sabrina S.
15 juin 2012
Hello,
Bonjour,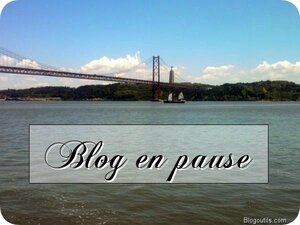 As you can understand from the image, I'm putting this blog on pause as I figure out a way to go on blogging with passion. I'm taking a wonderful blogging class by Liv Lane, Build a Blog you Truly Love, and this class has made me thought a lot and the result of my nascent brainstorming is that this blog, as it is, does not fulfill me anymore.
Comme vous le comprenez grâce à la petite image, je mets ce blog entre parenthèses quelques temps, le temps de trouver comment combiner les choses de manière satisfaisante et retrouver le plaisir et la passion de "blogguer". Je suis un cours de Liv Lane sur le blogging, Build a Blog you Truly Love, et cette classe me fait beaucoup réfléchir, au point de vouloir tout changer. Ce blog ne me satisfait plus parce que:

1) I do more than scrapbook, so I'd like this blog to reflect it. I want to inject more writing/journaling into it, and other forms of creative expression as they grow in me.
Je ne fais pas que du scrapbooking dans la vie et j'aimerais que mon blog en soit le reflet. J'ai envie d'y injecter plus d'écriture ou autres, à mesure que je découvre de nouvelles formes d'expression.

2) Since I started my writing blog on Blogger (Writing for a better life), I've come to dislike strongly this blogging platform. It's very limited. So I want to move to Blogger.
Depuis que j'ai commencé mon blog d'écriture en anglais sur Blogger, j'avoue que je déteste cette plateforme de plus en plus. Elle est particulièrement limitée et j'ai envie de faire autre chose ailleurs.

3) I've grown to dislike the fact of writing my posts in 2 languages. So, the best alternative will be to create a blog in French and another one, in English. They'll roughly be the same, but sometimes a bit different, depending on what I write and what class or challenge I'm doing. Plus, it's probably annoying to you all to have to scroll down to the language you read.
J'apprécie de moins en moins le fait d'écrire mes billets en 2 langues différentes et ça doit aussi être fatiguant et moyennement plaisant de devoir chercher où lire les choses dans sa langue. Je vais donc certainement créer ou fusionner les choses pour qu'il y ait un blog en français et un en anglais. Ils seront sensiblement identiques, à quelques détails près, mais chacun aura son espace dédié.

4) I'm on an extensive creative (and psychological) recovery and I'd like my blog to reflect that journey I've been on for the last year. I'm probably not the only one on this planet, but sharing our stories makes us stronger. I'd also like my family and friends to get a glimpse of this (they don't really, right now).
Comme certains le savent, je sors peu à peu de ma chrysalide. Je suis en psychothérapie depuis plus d'un an et ce travail analytique commence à porter ces fruits, lentement mais sûrement. J'aimerais donc aussi que cet espace reflète un peu ce parcours dans lequel je suis engagée. Je retrouve ma "voix" (dans tous les sens du terme) et partager (un peu!) mon histoire avec vous, chers lecteurs (bon, surtout lectrices!), serait une façon de partager autre chose que 3 bouts de papiers et un bouton. Je ne suis certainement pas la seule dans ce cas-là et partager nos histoires ne peut que nous faire du bien à tous et à toutes! Ce serait aussi une façon pour ma famille et mes amis/amies de suivre un peu mieux ma vie.

So hopefully, you'll like it more, and I really want to continue growing my creative wings along with you. I'll keep you posted on the upcoming changes. I'll end with a HUGE THANK YOU note to you all for your support, sweet comments, and emails. The confidence I'm feeling has grown with every single one of your good wishes.
Voilà! Bon, j'espère que vous aimerez ce qui se prépare. Je souhaite continuer d'évoluer et de déployer mes ailes à vos côtés. Je vous tiendrai donc au courant des changements à venir. Je tiens à finir avec un ENORME MERCI pour tous vos commentaires et votre soutien depuis mes débuts.
I'll be back soon. A bientôt.

Sabrina (formerly Sabbyscrap).
26 mai 2012
Hello,
I'm back with a page I made using the add-on Studio Calico kit from April, Versailles. I used a LO I saw in the "Everyday Storyteller" e-book I found here. It's a compilation of different chapters by different scrapbookers, and I find it very inspiring so far. I used Melissa Stinson's "First Cherry Blossom" page as inspiration. Here is the result of my scraplift:
Je suis de retour avec une page que j'ai faite avec le kit Versailles de Studio Calico pour le mois d'avril. J'ai acheté un "e-book", Everyday Storyteller qui est très bien fait, avec des styles et des scrapbookeuses différents. Si vous lisez l'anglais, c'est un bon investissement. J'ai scraplifté la page de Mélissa Stinson, "First Cherry Blossom". Voici le résultat: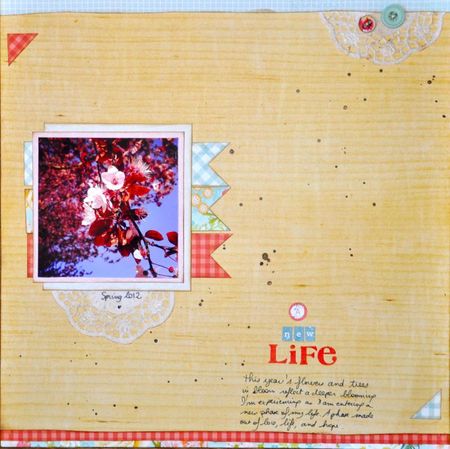 It is an Instagram picture I took more than a month ago, and I really love it as it reflects more than the current spring. It's a deep rebirth for me right now, so using that picture made sense.
J'ai pris cette photo avec Instagram il y a plus d'un mois car je trouvais que les fleurs des arbres reflétaient plus que l'arrivée du printemps. Je me sens un peu comme en renaissance, donc cette photo s'est imposée à moi quand j'ai cherché un sujet.
I'll be back soon,
A bientôt,
Sabbyscrap.
28 avril 2012
Hello,
Back with a LO I made with Shimelle's challenge "And Now For Something Completely Different" over at UK Scrappers. I used Studio Calico March Kit Story Hour. I loved using an A4 picture and using glitter ribbon (by American Crafts). It is my second layout about the Cloud Gate at the Millenium Park in Chicago. I really loved it! Chicago is full of architectural wonders everywhere you go. I'll share other pictures as I dive into the photos I ordered.
De retour avec une page faite d'après le challenge de Shimelle "And Now For Something Completely Different" sur le forum de UK Scrappers. J'ai utilisé mon kit de mars, Story Hour, de Studio Calido. J'ai adoré utiliser une photo A4 et le ruban pailleté d'American Crafts. C'est ma deuxième page sur le Cloud Gate de Chicago. Je trouve que ça ressemble plus à un haricot, mais "Cloud Gate", c'est plus poétique (le pont des nuages). Chicago nous révèle des merveilles architecturales à tous les coins de rues. J'en partagerai d'autres à mesure que je plonge dans les photos que j'ai commandées.

See you soon!
A bientôt,
Sabbyscrap.
23 avril 2012
Hello,
Time passes by so quickly... It's been more than a month since my last post. My academic year is over, so I have 5 months of free time to play & enjoy myself until the next classes in October. Can't to get started on the fun! I come back with a LO I just made with my latest Studio Calico kit (April 2012), City of Lights. I loved Shimelle's last Glitter Girl episode #16 on "the battle of A vs B" which is about choosing bold patterns of 2-sided papers instead of sticking to the other "safe" side. In my SC kit, I fell in love with the 2 specially-designed papers by Sassafras that were included (the woodgrain and the bod letters/numbers/Pattern paper you see behind the photos, so I thought the challenge came just at the right time!
Que le temps passe vite! Un mois depuis mon dernier billet... Mon année universitaire est terminée, je vais pouvoir profiter des 5 prochains mois pour faire autre chose qu'enseigner et corriger. J'ai hâte de commencer à profiter de tout ce temps! Je reviens donc avec une page que j'ai faite avec mon dernier kit Studio Calico (City of Lights d'avril 2012). Le dernier challenge de Shimelle et Glitter (episode #16 on "the battle of A vs B") tombait à pic. La vidéo porte sur les hésitations que l'on peut ressentir entre les 2 côtés d'un papier, entre le côté soft et parfois, des motifs un peu vifs. J'ai pris le challenge au sens propre et j'ai choisi un papier vraiment vif que je n'aurais vraiment pas choisi pour des photos de mariage. Dans le kit, j'ai adoré les papiers Sassafras scpécialement édités pour le kit (le papier motif bis en fond de page et le papier bariolé derrière les photos).
For some, it might seem weird to see me scrapbook a photo from my wedding (since then we've separated), but I was not focusing on the wedding itself, but on my friendship with my friend B. and the fact that we were each other's bridesmaids after many years of sisterly friendship. To me, it totally deserved to be scrapbooked. Plus, we were so pretty on those special days!
Pour certains, cela peut paraître bizarre de voir que je scrappe une photo de mon mariage (alors que nous sommes maintenant séparés), mais sur cette page, mon attention est portée sur mon amitié avec B. et le fait que nous nous sommes mariées à 3 semaines d'écart et nous avons été nos témoins respectifs. Pour moi, cette magnifique histoire d'amitié méritait d'être scrappée. En plus, on était tellement belles ce jour-là!!!
I'll be back soon!

A bientôt,
Sabbyscrap
08 mars 2012
Hello,
I finally decided to start a BOM along the year (Book Of Me) I saw on the blog "Operation BOM" (sorry, it's in French). I was admiring the different pages, then I thought, "why not?". The first isntalment (from the beginning of January) was your first name. A BOM, as some of you know, is a mini-book project about things about you. I may sound self-centered, but I also want to record things about me, too.
I hid my journaling on tags behind the photo. The story of how I got my name is a bit complicated. No wonder, I AM complicated as a result!
J'ai enfin décidé de faire un projet sur l'année appelé un BOM (un Book of Me, c'est-à-dire un livre sur moi). J'ai vu, pour la première fois sur le blog "Operation BOM". Le premier sujet était "votre prénom". Un BOM est un mini-ambum que vous créez à propos de vous; ça peut paraître égocentrique de s'auto-scrapper, mais après tout, pourquoi pas? Pourquoi ça ne serait pas intéressant?
J'ai caché mon journaling sur des tags derrière la photo car l'histoire derrière mon prénom est un peu compliqué. Pas étonnant que je sois compliquée du coup!

One of the DT's members decided to use Kraft paper as a basis, I loved it as I have these files I bought from Paper Source when I was in Chicago. I don't know yet how I'll use them. I'll probably do them at the end.
Une des membres de la DT a décidé de faire ses pages sur du papier Kraft, j'ai trouvé super, surtout que je voulais trouver un moyen d'utiliser ces dossiers en kraft que j'ai achetés chez Paper Source quand j'étais à Chicago. Je ne sais pas encore comment je vais les utiliser. Je les ferai certainement à la fin.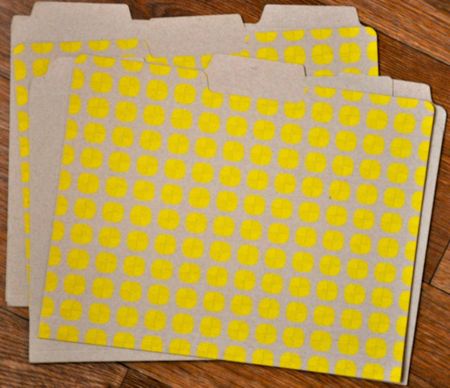 I'll be back soon!
A bientôt!
Sabbyscrap
02 mars 2012
Hello,
I'm finally back with the cards I told you about last week. I left without the pics on my computer, so I couldn't update my blog... Anyway, here they are. The first one is a scraplift from Maile Belle. I wanted to use this gorgeous stamp set from Papertrey Ink:
Je suis enfin de retour avec les cartes dont je vous parlais la semaine dernière - je suis un petit peu partie sans les photos, donc impossible de remettre à jour mon blog. La première est un scraplift de Maile Belle. J'avais envie d'utiliser ces tampons Papertrey ink depuis longtemps:
For this one, no scraplift, just a bunch of butterflies, punches, Glossy Accents and bling:
Pour celle-là, pas de scraplift. Juste des papillons, des perfos, du Glossy Accents et du bling bling: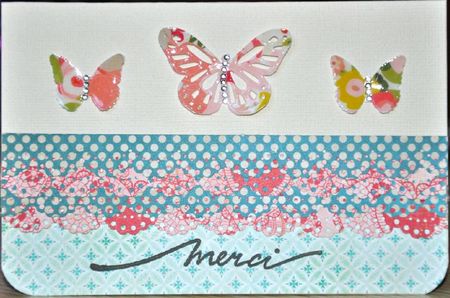 For the last one, I fell in love with this card made by Kimberly Crawford. I wanted to use a heart doily so much...:
Pour la dernière, j'ai flashé sur cette carte de Kimberly Crawford et cela fait longtemps que j'avais envie d'utiliser un coeur en dentelle: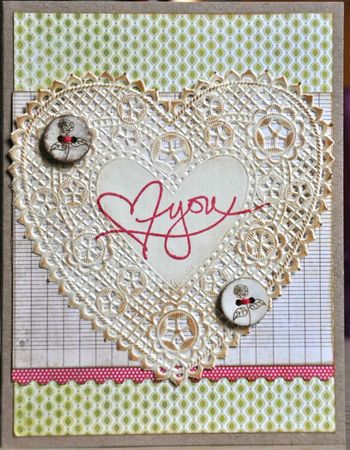 I'll be back soon.
A bientôt,
Sabbyscrap
24 février 2012
Hello,
Here is a LO I made using Amy Tan's class at Studio Calico (Stretch your kit) with my County Fair January kit. This time, the point was to use watercolor and a cut out title. I've been wanting to scrapbook that photo for a while. I like the fact that we can't see where the path leads you, it was pretty easy to make a parallel with how my life has been these past few months.
Voici une page que j'ai faite avec une classe d'Amy Tan à Studio Calico (Stretch your kit) avec mon kit Studio Calico du mois de janvier (County Fair). Il fallait utiliser de l'aquarelle et un titre découpé à la main. J'avais envie de scrapper cette page depuis longtemps. J'aime le fait que l'on ne voit pas où mène le chemin. C'est un peu l'impression que j'ai de ma vie ces derniers mois.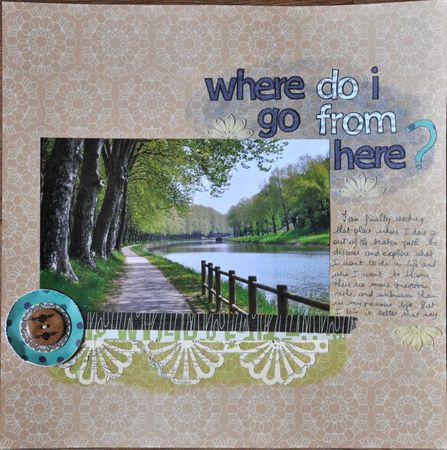 I'll be back soon with 2 little cards I made.
A très bientôt avec 2 petites cartes que j'ai faites.
Sabbyscrap
15 février 2012
Hello,

I'm back with a mini I did for my BF for St Valentine's Day using a 52-card deck. I found that tutorial from Papervine and I decided to give it a shot. I found the 52 reasons in no time at all (I was afraid it would take forever). Here is the result:
Un peu d'amour, ça ne fait pas de mal! Oui, la St Valentin est une fête commerciale, mais bon, faire des petits cadeaux faits main, c'est sympa. J'ai suivi un tuto de Papervine et je me suis lancée: j'ai fait un mini à partir d'un jeu de 52 cartes où j'ai trouvé 52 choses que j'aime bien chez mon chéri. Franchement, j'ai trouvé les 52 raisons en 15 min chrono! Moi qui angoissais d'y passer des semaines... Voici le résultat: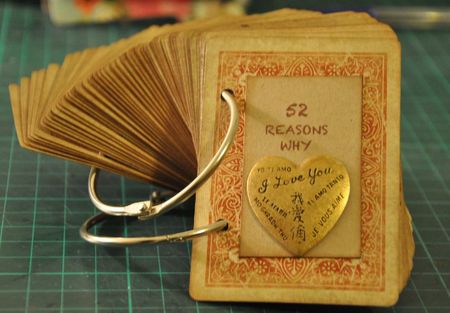 I'll be back in a few days with a LO involving a technique I've never used yet...
A dans quelques jours avec une page utilisant une nouvelle technique...

Sabbyscrap
12 février 2012
Bonjour,
At Jamie Ridler Studio, on Feb. 7th, it was the Full Snow Moon and time to make a dreamboard. It's my first dreamboard and I loved the experience of making it. I'll hang it on my wall above my craft table to be inspired by it every time I look at it. Of course, it's all tilted. Nothing's straight, but that's OK. It's my signature: perfectly imperfect! (and just to make things clear: no I wasn't drinking wine while making it, it's natural for me to tilt everything! ;-))
I combined Jamie Ridler's prompt and a challenge on La Fabrique's blog (it's a French blog). The composition is supposed to recall a poster for the show "Grey's Anatomy."
Tous les mois, Jamie Ridler nous invite à préparer un genre de tableau de nos rêves (dreamboard) où on collectionne des images de choses que l'on aimerait avoir plus dans notre vie. C'était mon premier tableau et je l'ai mis au mur au-dessus de mon bureau de scrap pour (re)trouver de l'inspiration à chaque fois que je lève la tête. Comme vous l'avez remarqué, tout est de travers, mais c'est pas grave! C'est ma signature! L'imperfection parfaite (et non, je n'étais pas bourrée quand j'ai tout collé. Le traviolle, c'est naturel chez moi!).
Pour réaliser le dreamboard, j'ai utilisé un challenge de la Fabrique où il fallait recréer le poster de Grey's Anatomy ci-dessous.
In this 1st dreamboard, I combined pictures I gathered on my Pinterest boards (if you ever need an invite to get on Pinterest, don't hesitate to ask me!) that inspire me and give me an instant mind lift: I long for more color in my life, more home-made cooking, love with my significant other (we've made so much progress in the last month, it's really encouraging!), travel, but especially writing my way to more freedom and art journaling. Since the beginning of the year, I've made some significant changes; time will have to root these new things more deeply into my life. Unlike previous years, I approached the "resolution" question very differently this year. I aim for less, but with more conviction. So far, the result is really exceeding my expectations.
Dans ce premier dreamboard, j'ai tilisé des images que j'ai rassemblées sur Pinterest (si vous avez besoin d'une invitation pour rejoindre ce super site, demandez-moi!) qui m'inspirent et me donnent instantanément la frite: j'ai envie de plus de couleur dans ma vie, plus de cuisine maison, plus d'amour avec mon chéri (on avance bien ces derniers temps, c'est encourageant!), des voyages, et surtout, j'ai envie de continuer à écrire et à me mettre au journaling créatif (j'ai 2 pages à finir et à vous montrer bientôt!). Depuis le début de l'année, j'ai fait des changements significatifs dans ma vie; j'espère que le temps fera que ces nouvelles choses prendront racine définitivement dans ma vie. Contrairement aux années précédentes, j'ai envisagé la question des "résolutions" de début d'année de manière différente: je vise moins de choses à changer, mais j'y mets beaucoup plus d'intention et de conviction. Pour l'instant, les résultats dépassent mes espérances!

Really, the idea of dreamboard is brilliant. This, combined with Wishcasting Wednesday, forces you to express and formulate your deepest wishes and aspirations. It makes you more aware of what you want to invite into your life. Usually, days just go by, most of them unnoticed, so it's a good idea to stop time here and there to ponder.
Vraiment, cette idée de dreamboard est excellente. Cet exercice, avec ce que Jamie propose tous les mercredis (Wishcasting Wednesday) nous encourage à exprimer et formuler nos souhaits et aspirations les plus profonds. Cela vous rend plus attentif à ce que vous voulez. En général, les jours passent et se ressemblent beaucoup, c'est donc un bon exercice de se poser par moments et de réfléchir.
What about YOU? What are your dreams and deepest desires?
Et vous? Quels sont vos REVES et désirs les plus profonds?