26 mai 2012
Hello,
I'm back with a page I made using the add-on Studio Calico kit from April, Versailles. I used a LO I saw in the "Everyday Storyteller" e-book I found here. It's a compilation of different chapters by different scrapbookers, and I find it very inspiring so far. I used Melissa Stinson's "First Cherry Blossom" page as inspiration. Here is the result of my scraplift:
Je suis de retour avec une page que j'ai faite avec le kit Versailles de Studio Calico pour le mois d'avril. J'ai acheté un "e-book", Everyday Storyteller qui est très bien fait, avec des styles et des scrapbookeuses différents. Si vous lisez l'anglais, c'est un bon investissement. J'ai scraplifté la page de Mélissa Stinson, "First Cherry Blossom". Voici le résultat: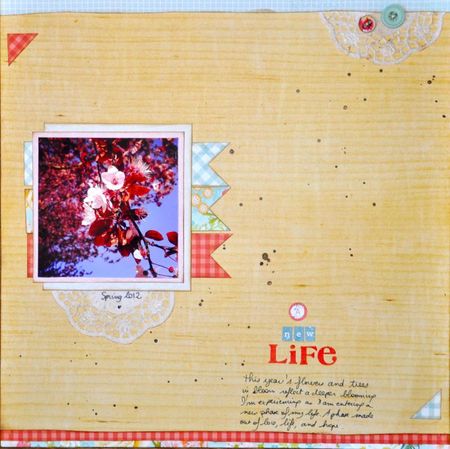 It is an Instagram picture I took more than a month ago, and I really love it as it reflects more than the current spring. It's a deep rebirth for me right now, so using that picture made sense.
J'ai pris cette photo avec Instagram il y a plus d'un mois car je trouvais que les fleurs des arbres reflétaient plus que l'arrivée du printemps. Je me sens un peu comme en renaissance, donc cette photo s'est imposée à moi quand j'ai cherché un sujet.
I'll be back soon,
A bientôt,
Sabbyscrap.
Commentaires sur A New Life LO