11 février 2012
Hello,
Here is a page I made using my Studio Calico kit from January (County Fair) and a class I'm taking from Amy Tangerine ("Stretch Your Kit" on the Studio Calico website). It's an affordable class that teaches us how to make the most of our kits (just perfect for me!). Now is time to start making pages about my new life and introducing the special one who has been brightening my days since this summer.
I scraplifted the structure of the layout, but adapted it. The point was to use the Jenni Bowlin's doily flowers as masks and to cut words strips from one of the patterned papers. I then added the painted alphabets using some Mister Huey's spray mists. I liked that lesson because I would never have thought about using the flowers in that way, I quite love the result. I got the idea for the title and painting when printing the photos, I thought the orange color of my BF's sweater hurt my eyes, so I thought "why not turn that to my advantage!" Inspiration does not always come in discreet disguise...
Une page realisée avec mon kit Studio Calico du mois de janvier (County Fair) grâce à une classe donnée par Amy Tangerine sur la plateforme de Studio Calico. Son cours n'est pas très cher et vise à nous montrer comment utiliser nos kits jusqu'au bout. Le temps ayant passé un peu, il est temps de commencer à parler de ma nouvelle vie et la personne qui occupe mes pensées depuis cet été.
Ici, j'ai gardé la structure de base de la page d'Amy, et surtout, je me suis servi des fleurs de Jenni Bowlin comme masque avec de la peinture en spray blanche de chez Studio Calico. Franchement, je n'aurais jamais eu l'idée d'utiliser les fleurs de cette façon! Le résultat est sympa. J'ai ensuite coloré les lettres du titre avec différentes peintures en spray. On va dire que la couleur du pull de mon copain (qui fait limite mal aux yeux!) m'a donné des idées! Comme quoi!!! Voici le résultat: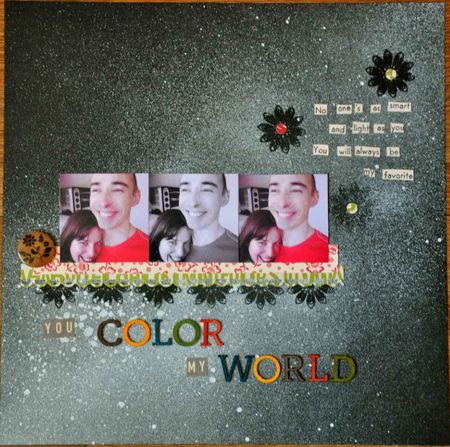 I'll be back soon with something sweet I prepared for St Valentine's Day.
A bientôt, j'ai préparé un truc sympa pour la St Valentin.
Sabbyscrap.
Commentaires sur You color my world LO - Studio Calico