08 février 2012
Hello everyone,
I'm back with a LO I made a few months ago using my January Studio Calico kit (Who's Who). I got inspired by the KI Memories mini pockets and the different mists I had just purchased (that went really well with the mistable Pink Paislee paper from the kit), so the idea of using these pockets to tuck some IPhone pictures came rather quickly. For once, I didn't look anywhere for inspiration. It just came by itself.
In May 2011, I moved in in this little house, and I spent the whole summer trying to recover from a broken marriage, pbs at work and putting an end to my PhD that was going nowhere. I needed time to heal, process, and (re)discover some things I had put aside for too long. Here are the 5 things that kept me company that summer: reading (finally enjoying the freedom and pleasure of choosing my books, and not some dry 600p-sociology book!), cooking, writing, scrapbooking, and a new person in my life.
Je suis de retour avec une page que j'ai faite avec un kit de Studio Calico du mois de janvier 2011, il y a quelques mois déjà. J'ai été inspirée par ces petites pochettes de chez KI Memories et des sprays de peinture que je venais de recevoir (et qui allaient à ravir avec ce papier "à mister" de chez Pink Paislee). Donc, l'idée d'utiliser ces enveloppes/pochettes pour y mettre des photos prises avec mon IPhone s'est imposée rapidement. Pour une fois, je n'ai cherché de l'inspiration nulle part, c'est venu tout seul de ma petite tête!
En mai 2011, j'ai emmenagé dans cette petite maison et j'ai passé l'été à essayer de me remettre de mon mariage brisé, de problèmes au boulot, et de ma thèse que j'ai décidé d'arrêter. J'avais besoin de temps pour panser mes plaies, digérer les choses et (re)découvrir plein de choses que j'avais laissées de côté. Voici les 5 choses qui m'ont tenu compagnie cet été: la lecture (enfin la possibilité de lire des livres choisis!), la cuisine, l'écriture, le scrap et une nouvelle personne dans ma vie.

Here is a look at the LO / un aperçu de la page: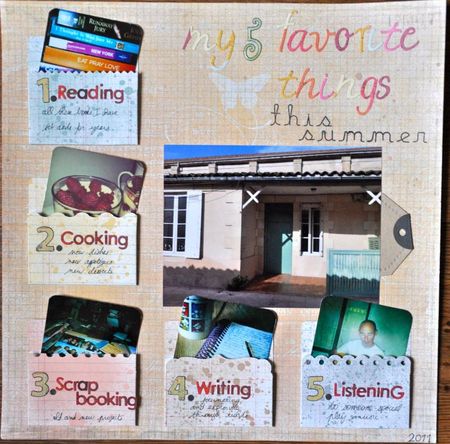 See you soon! A bientôt,
Sabbyscrap
Commentaires sur My 5 favorite things LO - SC