04 février 2012
Hello,
I'm back with a LO I made using Shimelle's Sketch to Sketch of the week (from 02/11/11) and using my Petrol add-on from my Studio Calico (July 2011). I really loved Chicago and its architecture, so it totally deserved a page with a pic taken with my Instagram IPhone app (totally in lve with this camera). The pic represents Cloud Gate at the Millenium Park, it's really a special place to visit, day and night.
Je suis de retour avec une page que j'ai faite en utilisant Shimelle's Sketch to Sketch of the week (du 2 novembre 2011) avec mon add-on Petrol de Studio Calico (Juillet 2011). J'ai vraiment adoré Chicago et son architecture, donc ça méritait bien une petite page prise avec mon application Instagram sur mon IPhone (super appareil vintage). Sur la photo, on peut voir le "Cloud Gate" au Millenium Park, un endroit à voir et revoir, le jour ou la nuit, si vous avez la chance d'aller à Chicago.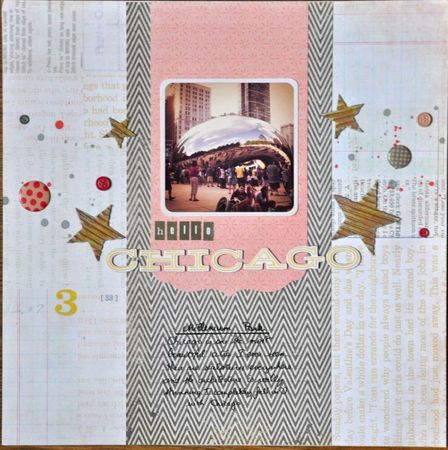 Last week, I had the pleasure to see one of my LO as one of 4 favorite LOs on Shimelle's blog. I was really proud and happy to see that. I'm such a fan of Shimelle, so it made my day!
La semaine dernière, j'ai eu la chance de figurer sur le blog de Shimelle (ici). Pour ses challenges, elle choisit souvent 4 pages qu'elle aime bien. Donc, vu que j'adore ce qu'elle fait, j'étais fière et super contente d'avoir été repérée par elle.
See you soon,
A bientôt,
Sabbyscrap
Commentaires sur Hello Chicago LO