24 février 2012
Hello,
Here is a LO I made using Amy Tan's class at Studio Calico (Stretch your kit) with my County Fair January kit. This time, the point was to use watercolor and a cut out title. I've been wanting to scrapbook that photo for a while. I like the fact that we can't see where the path leads you, it was pretty easy to make a parallel with how my life has been these past few months.
Voici une page que j'ai faite avec une classe d'Amy Tan à Studio Calico (Stretch your kit) avec mon kit Studio Calico du mois de janvier (County Fair). Il fallait utiliser de l'aquarelle et un titre découpé à la main. J'avais envie de scrapper cette page depuis longtemps. J'aime le fait que l'on ne voit pas où mène le chemin. C'est un peu l'impression que j'ai de ma vie ces derniers mois.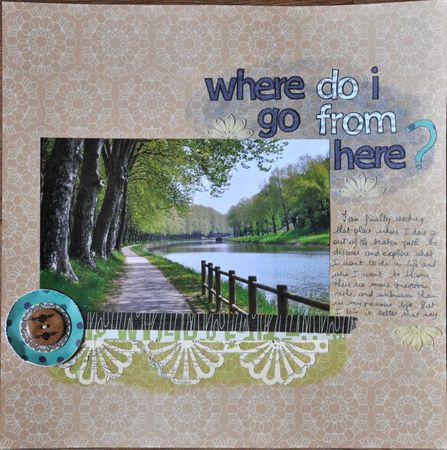 I'll be back soon with 2 little cards I made.
A très bientôt avec 2 petites cartes que j'ai faites.
Sabbyscrap
Commentaires sur Where do I go from here? LO