15 février 2012
Hello,

I'm back with a mini I did for my BF for St Valentine's Day using a 52-card deck. I found that tutorial from Papervine and I decided to give it a shot. I found the 52 reasons in no time at all (I was afraid it would take forever). Here is the result:
Un peu d'amour, ça ne fait pas de mal! Oui, la St Valentin est une fête commerciale, mais bon, faire des petits cadeaux faits main, c'est sympa. J'ai suivi un tuto de Papervine et je me suis lancée: j'ai fait un mini à partir d'un jeu de 52 cartes où j'ai trouvé 52 choses que j'aime bien chez mon chéri. Franchement, j'ai trouvé les 52 raisons en 15 min chrono! Moi qui angoissais d'y passer des semaines... Voici le résultat: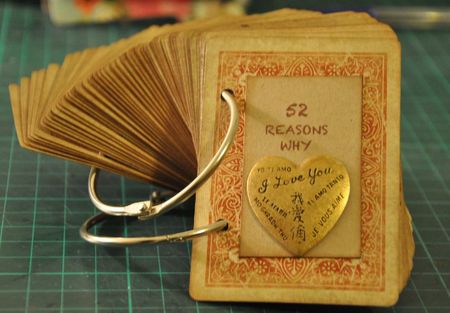 I'll be back in a few days with a LO involving a technique I've never used yet...
A dans quelques jours avec une page utilisant une nouvelle technique...

Sabbyscrap
Commentaires sur St Valentine's Day