19 octobre 2011
Hello,
Une petite page sur le mariage de mes chers amis B&O. C'était en juillet dernier, mais je me réveille seulement maintenant! J'ai utilisé le kit Lawn Party du mois de mai de Studio Calico. Je me suis inspirée d'une des pages de la galerie créative (mais je n'ai pas réussi à retrouver la source, désolée!). Je me suis un peu amusée avec quelques peintures en spray.
A small LO on my best friends' wedding (B&O). It was last July but I'm only starting to scrapbook it! I used some of my May Studio Calico kit (Lawn Party) and I played with some mists. I got some inspiration from their gallery, but I couldn't find the original LO - Sorry!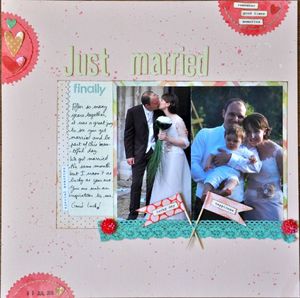 Journaling: Enfin mariés! Après tant d'années ensemble, c'était une joie immense de vous voir enfin vous unir et de faire partie de cette journée très spéciale. On s'est mariés le même mois, mais on n'a pas été aussi chanceux que vous. Vous êtes une telle insipiration pour moi. Bonne route!
Just married... Finally! After so many years together, it was a great joy to see you get married and be part of this beautiful day. We got married the same month, but I wasn't as lucky as you. You are such an inspiration to me. Good luck!
Supplies: Glitter Flower Pebbles Brads, Pebbles Toothpick flags; Alphabets: AC Doll Thickers, Basic Grey Mini Mono Stickers; Fancy Pants Filter Paper Embellishments; Bazzil Cardstock; Patterned Papers: Crate Paper Something Blue (Portrait Collection), Echo Park For the Record - Borders, The Girls Paperie Carousel Jubilee, October Afternoon Root Beer Barrels (5&Dime); Journaling Tags: Elle's Studio Handmade Layers; October Afternoon 5&Dime Miscellany Bag; Mists: Mistey Huey's Piglet et October Afternoon 5&Dime Strawberry Creme; trim; embroydery floss, heart punches.
A bientôt pour de nouvelles aventures.
I'll be back soon with some new stuff.
Sabbyscrap
Commentaires sur Just married LO - SC Lawn Party kit (May 2011)