24 janvier 2012
Hi Everyone,
Bonjour,

I'm back with a new LO I made about a cool place in Chicago, called "The Cheesecake Factory". It is based on Shimelle's Challenge, "And Now For Something Different" on the UKScrappers forum. I used an oooooold kit I purchased from Scrapbooking From The Inside Out back in January 2010 (yes, 2010!!! 2 years ago!). One of my other resolutions is to dig really hard into my stash. Shimelle's challenge consisted in using some round paper, paint, drops of paint/ink, thread, label stamps and 3 square photos (as well as glitter - I didn't have any + I'm not in love with glitter). I've been wanting to use this bright pink die-cut paper from Collage Press for a while, but just couldn't find a nice to do so (I toned it down with some brown Glimmer Mist, though) as well these beautiful (old) papers from Crate Paper (Cottage Collection). Here is the result:
Je suis de retour avec un page que j'ai faite sur un resto sympa à Chicago, le Cheesecake Factory (l'usine du Cheesecake). Cette page est basée sur le challenge mensuel "And Now For Something Different" de Shimelle sur le forum UKScrappers. J'ai utilisé un vieux kit que j'ai acheté en janvier 2010 (oui, vous avez bien lu, vieux de 2 ans!) Une de mes autres résolutions est d'aller chercher des vieux trucs dans mes tiroirs et de les utiliser. Le challenge de Shimelle de ce mois-ci était d'utiliser un papier rond (à découper ou un die-cut), de la peinture, des taches de peinture ou d'encre, du fil, des tampons étiquettes et 3 photos carrées (ainsi que des paillettes, mais je n'en ai pas car je n'en suis pas très fan). Cela faisait un moment que je voulais utiliser ce papier rose bonbon de chez Collage Press depuis ainsi que certains papiers de Crate Paper (Cottage Collection), mais je n'arrivais pas à trouver comment et avec quoi les marier. J'ai un peu atténué le rose bonbon avec du Glimmer Mist marron. Voici le résultat: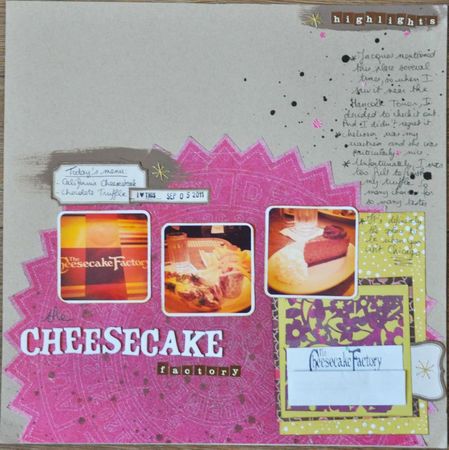 See you soon for other stuff!
A très vite pour de nouvelles aventures!
Sabbyscrap
Commentaires sur Cheesecake Factory LO - And Now For Something Different