11 janvier 2012
Hello everyone,
Coucou,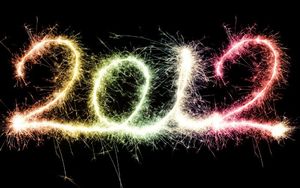 I'm back, alive and kicking for 2012 and I wish you all a very HAPPY NEW YEAR!!!! I like January as it is time when we look back on the previous year and look forward to what the new year will offer. As most of you know, 2011 has been one hell of a year. But amidst the hardships and difficulties, there were some gems of happiness and there were definitely some lessons to learn. For 2012, I want to focus more on what I want to accomplish. I definitely want more balance, more organization, and more fun! I made some resolutions and made some decisions (more about that in the coming weeks). Things have been changing for a few weeks now, and maaaaan, does it feel good to get somewhere!
Je suis de retour et j'ai bien la frite pour 2012, je vous souhaite à tous et à toutes une EXCELLENTE ANNEE 2012!!! J'adore le mois de janvier. C'est le temps des résolutions, des re-évaluations de l'année précédente. Comme vous le savez (pour certains), 2011 a été une bonne année de m..... Mais bon, on peut toujours trouver du positif dans les pires moments et c'est une année qui m'a beaucoup appris et qui a été un bon virage au final. En 2012, j'ai envie d'être plus concentrée sur ce que j'ai envie d'accomplir dans la vie. J'ai vraiment besoin de trouver un équilibre, d'être (plus) organisée, et surtout de me lâcher plus, m'amuser, m'éclater... J'ai pris quelques résolutions (des vraies!!) et pris quelques décisions (que je partagerai dans les semaines et mois qui viennent). Les choses ont changé depuis plusieurs semaines déjà et qu'est-ce que ça fait du bien d'avancer!!!!!!
So to kick off this new year, I decided to share this LO I made a few weeks ago about my friend D. from Berkeley. He embodies what love and sharing are all about and I thought he long deserved to be celebrated for these values I admire in him. He has a special way of making bread and sharing it, I love it!
Pour commencer l'année en beauté, je partage cette page que j'ai faite il y a quelques semaines déjà. Elle montre mon ami D. de Berkeley. Il incarne tout ce que l'amour et le partage représentent et je pensais qu'il était temps qu'il se retrouve sur une page de scrap et qu'il soit connu pour ces valeurs que j'aime beaucoup chez lui. Il a vraiment une façon à part de faire du pain et de le partager. J'adore!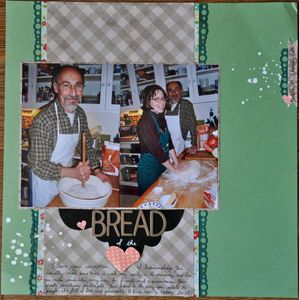 Journaling reads: "I love your conception of breadmaking. You usually make some twice a week, very early in the morning; and then, you make sandwiches, every day, for friends and acquaintances. Your guests sometimes participate. Your bread is the way you relate to people: it's full of love and generosity. A true rarity today."
Pour le journaling: "J'aime ta façon de faire du pain. Tu en fais en général 2 fois par semaine, assez tôt le matin; et ensuite, tu fais des sandwiches, chaque jour, pour des amis ou connaissances. Tes invités mettent parfois la main à la pâte. Ton pain représente la manière dont tu te lies aux autres: il est plein d'amour et de générosité. Une rareté dans le monde d'aujourd'hui".
I used Shimelle's Sketch of the Week (21 Sept. 2011) and my Studio Calico Boardwalk kit (August 2011). As you can see, I'm also using technology with InLinks (it creates images of the products I use to make my page), it's so much easier and time-saving than looking and linking one product at a time. For more about it, visit InLinks. It took me a few minutes to figure out, but I don't regret it! Plus, it's more appealing visually.
J'ai utilisé un sketch de Shimelle (Shimelle's Sketch of the Week (21 Sept. 2011)) avec mon kit Studio Calico d'août 2011. Comme vous pouvez le remarquer, j'ai décidé d'améliorer mes liens vers les produits utilisés pour mes pages avec InLinks, c'est un petit programme de codage qui permet de créer des listes de produits avec images que l'ont peut ensuite insérer dans nos billets. C'est pratique, rapide, et tellement plus sympa! J'ai mis quelques minutes avant de comprendre comment ça marche, mais pas de regret!!!
Alright, I'll come back soon (for real this time!) with new things to share. See you!!
Allez, je reviens bientôt (si, si, cette fois, c'est vrai!) avec de nouvelles choses à montrer. Grosses bises!!!
Sabbyscrap
Commentaires sur Happy New Year 2012 - Bread of the Heart LO