17 septembre 2011
Hello,
Après quelques semaines de voyage aux Etats-Unis, me voilà de retour. Je vais en avoir des choses sympa à scrapper! Je devais remettre mon blog à jour là-bas régulièrement, mais je suis partie sans les références exactes de ce que je voulais écrire... J'ai donc dû attendre de revenir.
I'm finally back after several weeks spent in the US. I'll have so many cool things to scrapbook about! I was supposed to update my blog over there regularly, but I left without any precise references, so I had to wait to come back home.
Voici une page inspirée de la galerie créative de Studio Calico (un club de kits américain que j'adore!). J'ai scraplifté (=s'inspirer de) une page d'Emily Pitts (pour le kit Who's Who de janvier 2011). J'ai adoré l'idée d'utiliser l'emballage des chipboards de Sassafras comme masque. C'est une façon très innovante de travailler avec des choses que l'on pourrait facilement jetter sans y prêter plus d'attention que ça. Ici, j'ai utilisé un spray de peinture blanche (Studio Calico). Comme vous le remarquerez, je scrappe de plus en plus avec un fond en kraft. Je trouve vraiment ce fond élégant et il se marie très bien avec les différents sprays de couleurs que l'on trouve sur le marché actuellement (Studio Calico, October Afternoon).
I scraplifted this page from the Studio Calico design team gallery. The page is from the Who's Who January 2011 kit and the page is inspired by Emily Pitts. I really loved the idea of using the chipboard packaging as a mask (I used the White Studio Calico mist). It's a very innovative way of using something you might have discarded without thinking twice about it. As you may notice, I love kraft paper more and more as a background. I find it very elegant and it goes really well with all the new (non-glittery) mists that we can find nowadays (Studio Calico, October Afternoon).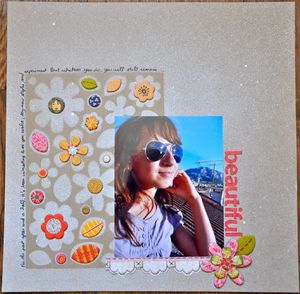 Cette page montre ma petite soeur qui grandit bien vite ces dernières années.
This page is about my little sister who has grown a lot these past few years.
Journaling: Ces derniers temps, c'était intéressant de te voir évoluer, essayer et expérimenter de nouveaux styles. Mais peu importe ce que tu fais, tu resteras toujours belle.
For the past year and a half, it's been interesting to see you evolve, try new styles, and experiment. But whatever you do, you will still remain beautiful.
Fournitures/supplies: Studio Calico Who's who kit: Studio Calico White Spray, Sassafras Script alphabet, Sassafras Garden Bit Orange chipboards, an Indie Girl Paper, kraft paper.
A très vite,
See you soon.
Sabbyscrap
Commentaires sur Studio Calico - Jan.2011 Scraplift